Graham McKean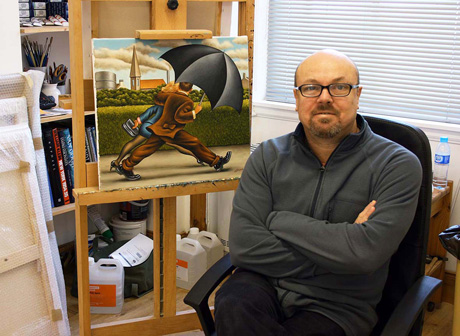 ---
Graham McKean was born in Irvine, Scotland in 1962 and when he left school he took up a position as a "plater shipwright", first in Glasgow then in Troon. His artistic talent would not stay hidden however and he began to do some work as an illustrator and silk-screen printer. He was soon able to support himself full time as a graphic artist, a career which he pursued until 1996 when Graham McKean decided to take the huge step of becoming a professional artist.

Sure enough he was immediately in tremendous demand and he is now recognized as one of Scotland''s finest artists. Although his stunning figurative images originate in Graham McKean''s fertile imagination and represent "everyman" and "everywoman", his subject matter is inspired by incidents in his own life. He uses humour and sentiment where appropriate to persuade us that each individual painting is part of a bigger picture - the picture of life.

A review by the late W. Gordon Smith (Art Critic, The Scotsman), described the work of Graham McKean as a cross between the painters John Byrne and Stanley Spencer, but with an "interesting bite".

Graham McKean''s fabulous artwork has been successfully exhibited for several years across the UK and Europe. He has been the subject of media attention on countless occasions, including various appearances on BBC TV and radio, and has featured in the Guardian and the Express. His impressive portfolio includes diverse commissions such as a collection of large oil paintings for Scottish Opera, and a label for Glenfiddich malt whisky. His charitable work is well known in Scotland and beyond, benefiting such organisiations as Save the Children and the British Red Cross as well as local hospices.
Related Work