Kate Wyatt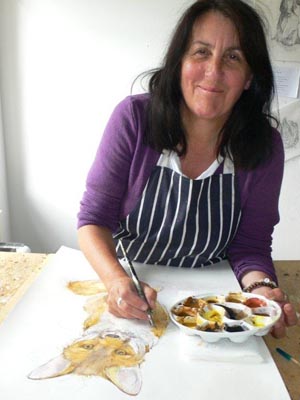 ---
Kate spends most of her time out in the field drawing wildlife and the surrounding habitat, continuing in her belief that drawing from direct observation is the only way to obtain depth and feeling about her subjects. She is fortunate in having a good rapport with local farmers and landowners which allows her the freedom of watching the animals in their daily lives.

Printmaking is another of her interests and a subject which she enjoyed exploring at Art school and later at the Prince's Drawing School. She continues to work on local landscapes and to carry on experimenting using laser cut images to marry both animal and surroundings together.

Kate has been widely published in recent years and her images of hares and other British wildlife have become instantly recognisable making her the most successful artist in the country for that genre.

Exhibitions
Kate was invited to exhibit at the Royal West of England Art Gallery in 2004 and 2005 as part of their annual exhibition.
She was also invited to exhibit at the Mall Galleries in London as part of the Society for Women Artists in 2009 and 2010 and was very excited when Princess Michael of Kent commented that she loved her work although somewhat dumbstruck when she announced this in front of the whole of the room at the Mall!
Related Work