Sarah Jack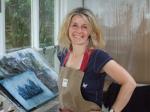 ---
Sarah is fascinated by natural or primitive marks, lines, crevasses, textures and layers.

A childhood of being taken taken around the countryside to explore the ancient and old., the primitive and archaeological, the delapidated and the crumbling makes it into Sarah's unique cottages. These influences in sarah's early life lead to her emotional, amusing but also haunting interpretations of countryside cottages, mills and outbuildings.

Each piece of art on which she works has been prepared by Sarah until it has a textured surface that feels intriguing. Largely working with her hands, she enjoys using spatulas and scalpels, ink dippers, sand paper, sacking and scrim into which a mix of acrylics and oils are worked with rags.

Sarah has a provided art for the Interior Designers Bo and Jangles, Red Row Homes, Ruth Whitehead and Associates as well as exhibiting her work in London, Dorset, Nottingham and Scotland.
Related Work