Cheryl McPherson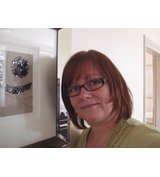 ---
Born in 1965 in Lancashire, Cheryl McPherson now lives in the beautiful Lake District with her family and lots of pets.She has worked in design and illustrating since leaving college and has been a 'glass artist' for ten years. Cheryl came across 'glass art ' while she living in France and experimented with different ideas and produced a range of glass on canvas which she sold to galleries and various retail outlets in France. After returning to the UK three years ago she obtained a large glass kiln and started exhibiting around the U.K which meant she could supply many galleries around the U.K as well as a New York gallery.

Working full time from her studio in the Lakes, Cheryl produces a varied amount of different products and bespoke works for her customers, working with lots of different mediums to produce original designs works.

Many of Cheryl's designs are contemporary and abstract and her 'look is unique' and she designs with a contemporary colour palette which has proved very popular. 'I have tried to balance the glitz of the mirror frame with the light reflections in my work, these pieces harmonise chic colourways and create a jewel like finish.

Cheryl's hobbies - photography, reading, walking with Margaret her dog.
Related Work