Hamish McDonald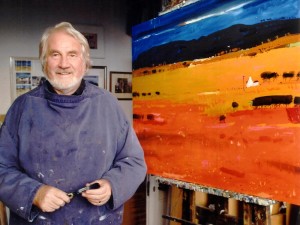 ---
Hamish MacDonald DA PAI, 1935-2008.
Hamish MacDonald was born in Glasgow in 1935. He studied at Glasgow School of Art between 1963 and 1967. From 1968 he successfully combined painting with teaching and also guest lectured throughout Scotland. In 1991 he retired from his post as an Art Department Principal to concentrate fully on the development of his painting.

Much of his work was inspired by the Scottish Colourist movement, but MacDonald preserved an individuality which marks him out as both a vibrant and important artist. Throughout his career he succeeded in capturing dramatic scenes with his own passionately innovative palette.

One of his favourite areas was the Isle of Skye and Poppy Field captures a typical MacDonald Skye landscape with a striking green field punctuated by vibrant red poppies blowing in the wind. His broad, fluid style and bold palette place him directly within the continuing lineage of the Scottish Colourist tradition whilst his ability to capture the atmosphere and vitality of his subject is enhanced by a confident and unique style.

Hamish is now widely regarded as one of Scotland's most successful contemporary artists. Since 1964, Hamish has staged numerous solo exhibitions in Scotland and Cornwall. He also participated in group shows with prominent galleries in London and throughout the UK. His works can be found in many major collections throughout the world.
Related Work