Rebecca Morledge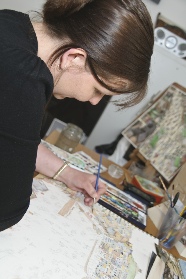 ---
Rebecca graduated from the university of Derby in 2005 with a BA (Hons) in Illustration and an illustrative style is now very evident in her paintings.
She uses watercolour and pen and ink to capture local scenes in high detail including local landmarks, buildings and characters.
Her paintings have a birds eye viewpoint which enables the viewer to see an area they may know very well in a completely different light.
Related Work