Leigh Lambert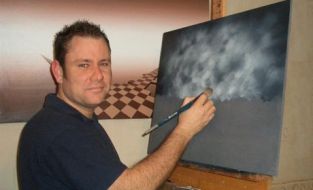 ---
Leigh Lambert


Born in Newcastle-Upon-Tyne in 1979, Leigh Lambert remained in the North East until 1996 when his family relocated to Warwickshire. The primary inspiration for Leigh's paintings comes from his childhood interests and memories and the North East. He depicts the terraced streets perfectly and he has a "canny knack" of enabling his colourful characters to bring these scenes to life with a sense of humour and sheer childlike joy.

After leaving school with no formal qualification, Leigh is essentially a self-taught artist with a natural talent for drawing painting. A versatile artist, able to work in both watercolour and oils, Leigh has developed his own instantly recognisable style. His work has been sold in galleries throughout the UK and he has undertaken several private commissions for his overseas collectors.

Both his original paintings and limited edition prints are highly sought after and this trend seems set to continue with a waiting list for his original pieces and the limited edition collections selling fast.
Related Work