Scott Read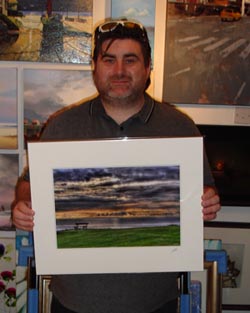 ---
Scott was born in Reading, England, 29th December 1973. He was brought up in a very creative family with a father who had a fond interest in photography among other things. Throughout Scott's teenage years he was encouraged to explore the world around him which just fuelled his more creative side as he 'absorbed' life as it happened. Scott began writing poetry as an early outlet for a burgeoning passion for expression of the "Time & Space" we inhabit, inspired not just by what he saw, but through the words of others. Eventually he went on to have several poems published.

Further inspiration was garnered from album artwork, in particular the work of Mark Wilkinson with the pieces he created for Marillion and Fish, also incorporating Roger Deans famous Yes covers. This catalyst was what really set him on the path to be moving within artistic circles, drawing on the knowledge from those around him and starting to carve his own path, fully embracing the digital era to create digital art pieces.

Having always worked "creatively" in one medium or another it was only a matter of time before becoming more aware of Photography as a form of artistic expression. Although always on his radar, it was HDR Photography that finally sparked Scott's interest. This discovery changed his perception of Photography as just a hobby. About 80% of what he now shoots is done using this creative method as it gives a depth of details difficult to attain using standard photography, giving a very distinctive look.

He continues to work across a variety of mediums as he feels it gives a broader creative perspective, drawing on elements from across the board, but Photography has become his primary outlet.
Related Work