John Haskins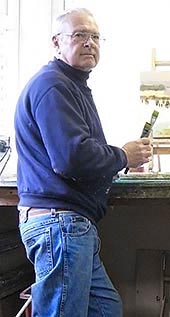 ---
John Haskins was born in London, where he graduated from art college with a City and Guilds Diploma in Illustration. John spent many years as an illustrator, depicting technical products of industrial giants such as British Aerospace, Hawker Sidley Aviation, Rolls Royce and NASA but eventually gave this up to devote his full attention to painting.

Working from his countryside home and studio, his paintings evoke an atmosphere of nostalgic charm for seasonal rural activity, drawn closely from a life-long attention to detail. He captures the afternoon stillness of a river-bank, the rustle and nod of the cornfield's edge or the buzz of bees in the hedgerows.

John has had many successful exhibition in London, Frankfurt, Paris, Pennsylvania, Edinburgh, Los Angeles, Melbourne and Sydney and his work can be found in private collections and galleries in five continents.
Related Work