Karen Welsh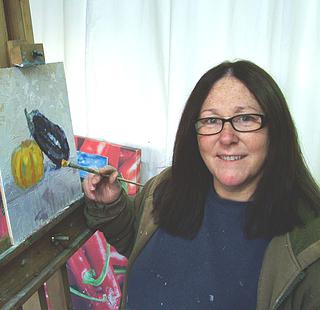 ---
Karen Welsh grew up in Reigate, a market town in Surrey. Karen's father taught her to paint, and as a teenager she often went on painting excursions with him. After leaving school Karen served an apprenticeship with her father for three years.



On completing her apprenticeship, she set up on her own as a commercial artist and signpainter at the age of 21. Later she begun to take private commissions, and in 2007 decided to concentrate exclusively on painting, sculptures and ceramics.



In 2011 Karen moved to Boyton, a tiny hamlet in rural Wiltshire. Since moving here she has become aware of her emotional response to her surroundings: the wonderful, ever-changing fields and landscapes and the varied wildlife and farm animals that inhabit them.



"Relationships between people and their emotional responses also interest me: whether it be a glance or an action, I like to try and capture it".
Related Work