Rayford H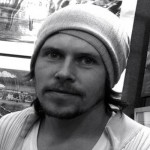 ---
Rayford was born in Standish near Wigan in 1978. He moved to York as a young child, and now resides in one of its picturesque surrounding villages.

While studying for a degree in Industrial Design at university, he developed his passion for art in his spare time. Financial pressures of being a student were eased by producing pencil drawings to commission, even selling one of his early drawings to the Hon Simon Howard of Castle Howard, North Yorkshire.

Subsequent years were spent working as a 3d designer, while Rayford continued to produce pencil drawings to commission, and for his own pleasure when time allowed.

Entirely self taught he was keen to begin working in colour and to explore the possibilities this would bring. Finding time to indulge his artistic sensibilities was difficult so in 2010 Rayford decided to pursue his interest in art as a full time profession, and commit time to developing his ability and style.
Related Work