Nigel Cooke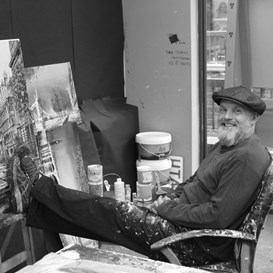 ---
Born in West Yorkshire, Nigel joined the Merchant Navy after leaving school and subsequently held a number of full time jobs on the road to becoming a full time artist. He sold his first painting at the age of 14 and joined Butlins as their resident caricature artist in 1992.

He later went on to open caricature concessions on Blackpool's 'Central Pier' and 'Pleasure Beach', the 'Trafford Centre' in Manchester and Alton Towers. He has also worked as a character designer for the Hong Kong based C.I.M International and remains a member of the National Caricature Network in the USA, a body he joined in 1996.

Looking to translate his unique point of view into other fields, Nigel begun painting cityscapes which elevate his illustrative style into fine art. His unusual 'drippy' style creates beautifully textured scenes that have intricate, layered details.
Related Work