Carl Scanes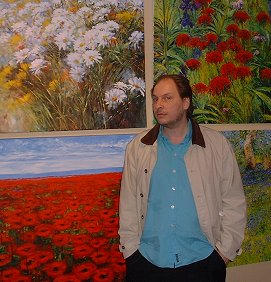 ---
SUMMER FLOWERS
Significant moments
Born: London 1964
Educated: Holburn Central School of Art.
First one man show: Gallery Flasthead, Copenhagen 1983.
Joint Exhibition: Geneva, Switzerland 1984.
Work completed for London Contemporary Art 1989-90.
Publication of Giverny Celebration Paintings by Rhosenstials Chelsea 1991.
Second Garden Collection for Rhosenstials 1993.
Work completed for Lynton-Smith Collection, Hong Kong 1998.
'Porters' English Restuarant Collection 1997-98.
'Jal Simensen' Collection -Florida 1999.
Paintings purchesed by Jack Palance 'actor', Benazia Bhutto Pakistan former premier. e.g.
Carl's paintings these days are commissions which he has in abundance.

Related Work