Barry Hilton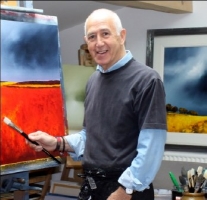 ---
Barry was born in 1941 in Manchester.
He moved in 1979 to the South West working in Cornwall where his paintings soon became very popular.
Painting and drawing have always played an important role in my life and although largely self taught, my semi professional career began painting alongside a group of extremely active artists in Cornwall under the guidance of Mr Leonard Rollason. Known affectionately through the art trade as "Rolli" it was he who mentored and kept me going through the early years of learning my trade.

Since those early days in Cornwall subject matter has come and gone though the demand for ships in harbours and victorian gas light street scenes continue.

Refusing to be stereotyped, I have always experimented with new subject matter and recently have had considerable success with beach scenes and landscape in a modern and contemporary style and, I am well represented in private galleries throughout the UK and Europe.
Related Work