Terry Humphries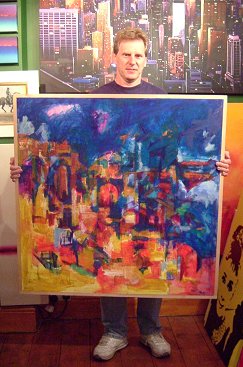 ---
BA Hons Design/Illustration.
Terry has worked professionally as an illustrator for the past 5 years whilst also developing his semi-abstract paintings.
The decision to concentrate on this aspect of his creativity has come from the belief that this is the purest means of expressing individuality and the spiritual nature of colour and form.
Terry has a deep appreciation for architecture and uses architectural elements within his paintings, evoking a sense of harmony between man-made structures and the land, through the use of rich colours and dynamic shapes, interwoven between tranparent layers of paint. These layers allow tantalising glimpses of previous forms, and through their ambiguous nature, invite the viewer to make their own interpretations.
Terry is often inspired by specific locations or a certain light or purity of colour, which evokes spiritual or phychological meaning in the context of a particular culture.
The paintings are mainly in acrylic and oils, using sgraffito, impasto and other techniques to express light, form, colour and movement.
Related Work