Amanda Helen Newman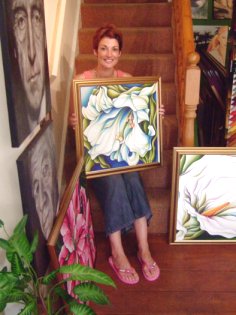 ---
University College Chichester : BA Hons Degree, Fine Art.
Winchester School of Art: Foundation Studies, Fine Art.
Isle of White College: GNVQ Advanced Art & Design.
Exhibitions: Ryde Gallery Isle of White. University College Chichester. Chichester Fringe Festival. Croft Gallery Swindon. Wyvern Theatre Swindon. Bath Fringe Art Fair.
Vetnor Botanical Gardens. Swindon Art Centre. Swindon Artists Society.
Amanda's paintings captures something of the flowers essence. Rather than interpreting literally, she has painted each flower, as she understands it, and paints them for their own sake, free from any concious metaphoric or heirarchical purpose. She paints flowers to preserve their beauty and the experience of them and to share this with some one else.
Amanda's artistic influences encompass Georgia O'keefe, Charles Rennie Macintosh, Alphonse Mucha, Louis Comfort Tiffany, William Morris and Emile Galle.
Her paintings create elegant and simple compositions, expressing a rythmical relationship between line, shape and colour, reflecting the unity and radiance of nature.
Medium used: Oil on Canvas.
Related Work