Cristina Steel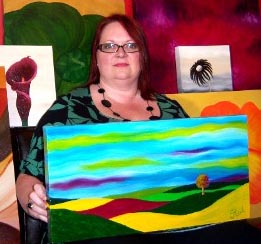 ---
Cristina was born in Barcelona. Since moving to the UK in 1986 I married and I have a daughter. I have always been a working mother but still managed to find time to expand my creative side by qualifying in Interior Design and Painting Techniques.

Later I took evening classes in oil painting. I do however consider myself mainly self-taught. I now paint mainly in acrylics and occasionally I paint in watercolours and pastels. I would like to think that my passion for colour, texture and to have fun is reflected in my art.

Inspiration comes from anything and everything. From every day life and colours, from a photograph, a landscape, a conversation and also from the new trends in home decoration. I like to "play" with the ideas and develop them in my own way and then transfer them onto canvas.

Related Work