Stiliana Alexieva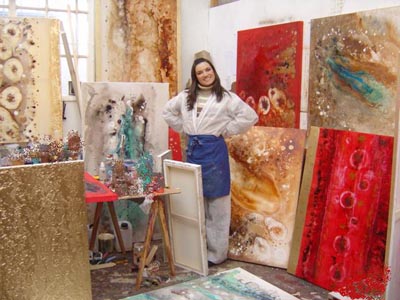 ---
Despite several years of formal training with her father Jordan Alexiev the renowned Bulgarian, watercolorist and sculptor, Stiliana considers herself to be a self-taught artist. She does not follow traditional conventions and says that by calling herself a mixed media artist, she is giving herself the licence to create with whatever tools and media that take her fancy. Driven on by her adventurous spirit she has continually looked for new ways of expressing her dreams, ideals and emotions. Most recently she has worked on abstract paintings using acrylic paint in combination with a variety of textural materials. These have been well received by a variety of buyers and examples of her work are now found in both private and commercial spaces in 20 different countries.
Predominant colours in Stiliana's work are on one hand the relaxing softly blended earthy colours such as brown, cream, and caramel, on another she likes to explore the provocative vibrant blends of the strong reds and oranges.

The work is painted on professional triple primed hand or ready stretched canvas with staple free sides, using highest quality acrylic paints and mediums. It was then double varnished with high quality acrylic varnish to intensify the colours, protect the painting, and to ensure longevity.

The artwork is with painted sides, ready to be hanged on the wall. No frame needed.
Related Work