Jean Picton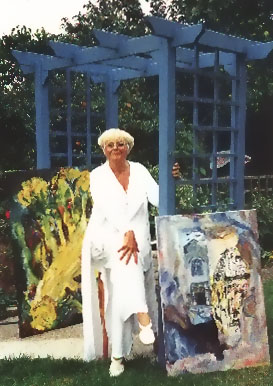 ---
As I look at the world, mans inhumanity to man leaves me with a feeling of sadness. As I get older, I feel a full stop coming up. I use the abstracted flower as a metaphor, that a life goes on, no matter how broken or devastated the place becomes. New growth erupts even in the bleakest corner, and nature still manges to complete its life cycle, with an abundance of colour, life and hope.

Born in 1934, Jean joined a circus at the age of 14 and began a theatrical career. From this modest beginning by the 1950s, having toured most variety theatres in the UK, Jean became on of the famous Windmill Girls at the Willdmill Theatre in the West End of London, working with such greats as Harry Secombe and Bruce Forsyth.

In 1990 she began painting seriously and spent many years studying art. In 2002 Jean graduated from the University of Hertfordshire with a Bachelor of Arts Honours degree in fine art. She has also completed a design diploma at Central Saint Martinšs and studied art & design and ceramics at West Hertfordshire College of Art & Design. She organises ŒArt Menorcaš painting holidays and has been invited to become a Fellow of The Digswell Art Trust.

Jean is represented by galleries throughout England, in London, and in Spain. Shešs taken part in exhibitions and shows including the Landmark Arts Centre art fair, On the Wall, and Fresh Art. ...





Related Work