Artist of the week: John Haskins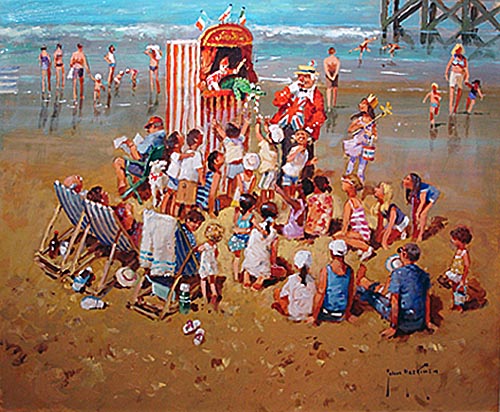 He is Behind You 61 x 51cm Image Size Visit Artist's Page
Welcome
OPENING TIMES: 10.30AM - 5.30PM THURS, FRI, & SAT.

If these days aren't convenient, I am happy to open by appointment on other days by texting or calling 07768 682828.

"THE LITTLE GALLERY WITH A TREASURE TROVE OF SPARKLING AND CAPTIVATING ORIGINAL FINE ART".

Opened in 2000, The Croft Gallery is quickly becoming a popular art gallery and picture framing workshop in Swindon, Wiltshire. We have a beautiful and varied selection of art permanently on display and welcome everyone in to browse our collection.

Whatever your taste in art, you are sure to see something you like!

All of the artwork is of the highest standard by professional artists. We are building a portfolio of artists to ensure a wide variety of styles, and to cater for the business environment as well as the home.

A note to all artists if you are interested in exhibiting your work in the gallery, please contact Francesco Gregorace on 01793 615821 or email: info@thecroftgallery.co.uk.

Prize Print Competition

Please view the Gallery Newsletter and make sure you enter your email address at the bottom of the page, for the free prize print draw which takes place every two months. All we ask in return from the winner is a comment "a one liner" about the website and the art on show.

Artists we represent:

Adrian Abberley, Sarah Adams, Stiliana Alexieva, Nuria Miro Almerache, Martin John Aynscomb-Harris, Carole Baker, Kevin Bandee, Adam Barsby, Jeremy Barlow, John Bate, Bill Battram, Ingrid Bee, Christopher Bell, Sue Bartlett, Rozanne Bell, Nicky Belton, Berber, Lillias Blackie, Francis Boag, Andrea Boorman, Chris Bourne, Dale Bowen, Claire Boyce, Richard Briggs, Steve Brook, Charlie Brown, Tom Bushnall, Roger Campbell, Capdevila, Roberto F Carle, Tim Carroll, Neil Carroll, Sandie Coe, Anthony Cashman, Amanda Clark, F Costantino, M Coleman, Robert Cook, Joe Cousin, Martin Creasey, Brandon Cross, Laura Copping, Sean Curley, Peter Curling, Ewa Czarniecka, Martin Del Burgo, Kerry Darlington, Andre Deymonaz,
Jose Ferrandiz Esteve, Edward Russell Evans, Paul Evans, Kealey Farmer, Ian Faulkner, Lee Fearnley, Emma Dale-Amini, Martin Elliot, Edward Russell Evans, Douglas Gray, Philip Gray, Jennifer Greenland, Patricia Greenwell, David Gainford, Nina Greenwood, Thomas Micheal Harrison, Brian Harvey, John Haskins, Martin Ingley, Robert James Henson, Barry Hilton, Sarah Hood, Sue Howells, Margaret Hughlock, Antonio Iannicelli, John Horsewell, Terry Humphries, Martin Ingley, Graham Isom, Sarah Jacks, Mike Jackson, David James, Alex Jawdokimov, Ben Jeffrey, Tina Jerome, Steve Johnston, Amanda Jones, Judi Jones, Marka Junis, Mariusz Kaldowski. Nagib Karsan, Ruslan Kosov, Victoria Jane Laird, Leigh Lambert, Rebecca Lardner, Becky Mair, Timmy Mallett, George Marler, Tom leighton, Peter Lister, Roger Livingstone, Steve Lynch, E Martinez, Hamish McDonald, Graham Mckean, Cheryl McPherson, Annie Monk, Marco Morati, Allan Morgan, Micheal Morgan, Rebecca Morledge, Helen Amanda Newman, Maria O'Niell, Richard Pargeter, Kathrine Parsons, Vanessa Perry, Jean Picton, Martin Piercy, David Pilgrim, Richard Price, Frank Quinton, Steve Rack, Chris Reeve, Michael Reynolds, Graham Reynolds, Mary Ann Rogers, Janet Rogers, Rosslyn Ruiz, Sir William Russell Flint, Jonathan Sanders, Carl Scanes, Jorge Segrelles, Jonathan Shaw, Mary Shaw, C Shek, David Short, Fletcher Sibthorp, Claire Frances Smith, Sally Stafford, Cristina Steel, Miroslav Stojkovic, Victoria Stewart, Miro Stockovic, Anthony Swann, William Tolley, Sarah Jane Szikora, Paul Tavernor, Arther Tayler, George Thompson, Jack Turner, Mark Vidler, Roger Vilamont, A Villalba, Lee Vincent, Carolina Vottero, Edward Waite, Gary Walton, Karen Welsh, Ken White, Wilfred, Paul Wilson, Dennis Wood, Kate Wyatt.

The gallery also provides a wonderful selection of limited edition prints by:
Sue Howells, Michael Morgan R.I., Kathrine Parsons, Sir William Russell-Flint, Alexander Miller, Peter Curling, Graham Isom, ,Gary Walton, Mary Ann Rogers, Sarah Jane Szikora, Bill Tolley, Laurence Coulson, Peter Hildick, and many more.

Looking for that special picture?. Allow us to find it for you. Whatever the subject, you name it and we will try and find it, as we are in contact with most art publishing houses.

I also exhibit a selection of fine art photography by:
Phil Malpas, Anna Stowe & Martin Bennett.

Bespoke Framing Service:

The Gallery also provides a specialist framing service, whatever your framing requirements whether it's one frame or a thousand be it traditional or modern we can do the job, on time at the best price and with a smile.

We have a vast range of frame mouldings in stock and access to all major suppliers. Top quality frames from Italy and Spain as well as hand made made British frames.
We can frame anything from prints, posters, water colours and oils to tapestries, cross stitch, memorobilia, football shirts, and photographs.

Other services provided are:

Restoration and repair of damaged paintings and frames.
The stretching of canvasses.

We are delighted to say that our paintings are considerably more affordable than the same artist's work exhibited in large city galleries, and as some of these artists are up and coming in the art world they represent a wise investment for the future.

Whatever your artistic taste, you are sure to enjoy a visit to our gallery where the choice of beautiful art is endless.

Computer imagery doesn't do original fine art justice, please call into the gallery for a closer look.

For more details please give us a call or send us an email.